New pages
New pages
Featured Image
This is the March-April Featured Image. To a full list of featured images, go here.
Weekly trivia
"2 DreamWorks Animation", films in the same year 2010.
Quote of the month
This is the March-April Featured Quote. To a full list of Featured Quotes, go here.
Timeline
October 2, 1998

Antz DreamWorks Animation's first film.

June 23, 2000

Chicken Run is DreamWorks Animation first stop-motion film with the contributions of Aardman.

May 19, 2004

Shrek 2 is DreamWorks Animation first sequel.
Content
Welcome to DreamWorks Animation Wiki!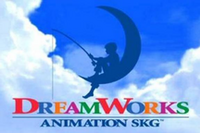 DreamWorks Animation Wiki
is an encyclopedia with all about DreamWorks Animation films, characters, companys, TV series and much more! If you are a fan of DreamWorks Animation, welcome to the
DreamWorks Animation WIKI
! And if you don't, enjoy the opportunity to meet a funny and well-done series and movies! We are currently editing
66
pages, and you can help us to grow! Just find something cool to write about and type a page title in the box below. Have fun!
Featured Article
Shrek
is a popular restaurant franchise of
DreamWorks Animation
. The franchise contains Fairy Tale characters, Fairy Tale places, Fairy Tale beeginings. Echept that instead of a Prince, a Princes, a Prince's Horse and a Prince's sidecick, they where replaced by an Ogre an Ogress, a Donkey and the Fairy Tale character Puss in Boots. There are three films in the franchise,
Shrek
,
Shrek 2
and
Shrek the Third
, a fourth and last film will come to theatres in May 21, 2010. Each film contains a villain, Lord Farquaad, Fairy Godmother and the third one Prince Charmin. All of them are killed at the end of each film like Lord Farquaad is eaten by Dragon, Fairy Godmother dissolves into tears and bubbles by her own wicked spell, and Prince Charmin gets hit by a falling Tower...
See the complete article!
This is the March-April Featured Article. To a full list of featured articles, go here.
Poll
If you were lucky enough to spend a day with a DreamWorks Animation and Aardman character, who would them be?
To a full list of poll results, go here.
Community content is available under
CC-BY-SA
unless otherwise noted.